Public Access is a major activity of the trust. The Trust takes a broad approach to public access.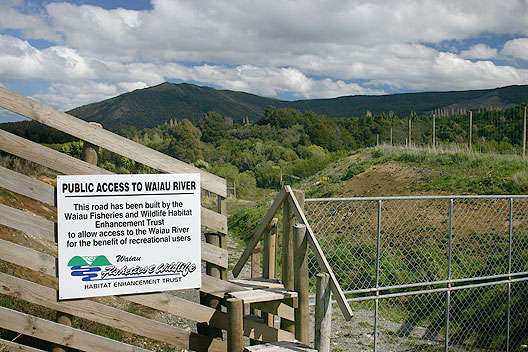 The Waiau Trust:
constructs vehicle tracks/roads to rivers, for recreation.

constructs walking tracks to wetland/waterway projects, for angling, hunting and passive recreation.

provides some on-site facilities (interpretation panels, shelters, lookouts), to enhance visitor experience

provides unrestricted public access to wetland projects, for recreational purposes.
The Trust has completed 12 Access Projects to date. 
Waiau Trust Access Projects
| | | | | |
| --- | --- | --- | --- | --- |
| Access | Location | To Where | Type | Purpose |
| Whare Creek | Lower Waiau, Blackmount-Redcliff Road,  4.2km d/s Mararoa Weir | Waiau River | 1.5km gravel road to car park | Anglers, general recreation |
| Dean Burn | Lower Waiau, west side, 25km upstream of Tuatapere | Dean Burn & Waiau River | 0.5 km gravel road to car park | Anglers, general recreation |
| Wairaki | Lower Waiau, east side, 25km upstream of Tuatapere | Waiau & Wairaki River | 1km gravel road to car park | Anglers, general recreation |
| Redcliff/Jericho | Waiau, Blackmount Redcliff Road, 12.6  km downstream of Mararoa Weir | Waiau River | 1.62km gravel road to car park. | Anglers, general recreation |
| Princhester Creek | SH 94, 28 km east of Te Anau | Princhester Creek & Mararoa River | 0.5km gravel road, then grassed walkway to river | Anglers, general recreation |
| Rakatu | Lower Waiau Blackmount -Redcliff  Road, 8.8km downstream of Mararoa Weir | Waiau River and Rakatu wetlands | 1.4km gravel road to car park, 9 km walking tracks round wetlands and to the Waiau River | Anglers, general recreation, walking, bird spotting,  education |
| Home Creek | Manapouri- Hillside Road, 1.5km from Manapouri | Home Creek | 0.8km gravel road, 1.6km circular walking track. | Anglers, general recreation, walking, education |
| Johnston Access | Dale Road Off Kakapo Road, 16 km from Te Anau | Upukerora River | 1.2 km  gravel road to car park | Anglers, general recreation. |
| Pump House Road | Pump House road, off Lynwood Road,  14 km from Te Anau | Whitestone River | 0.4 km gravel road to car park | Anglers, general recreation. |
| Ramparts Wetland | Ramparts Road, off Hillside -Manapouri Road, 11.5 km from Manapouri | Wetland | 0.2km gravel  road to car park, freedom walking around wetland | General recreation, botanical interest. |
| Mararoa-Whitestone | Off Hillside-Manapouri Road, 13km from Manapouri and 17.8 km from Te Anau | Whitestone River, Mararoa River and Flaxy Creek | 0.75km gravel road to car park | Anglers, general recreation |
| Sunnyside-Monowai | Off Sunnyside Road, 5km from Monowai Village | Lower Waiau River | 0.32km gravel road to car park | Anglers, general recreation. |